Welcome to the Alberta Agriculture
Carbon Dashboard
We are studying where our agriculture emissions come from and how we measure or estimate them. Then we will look at ways to reduce them, working with farmers and ranchers on various ideas so that we improve our carbon footprint while increasing our industry's efficiencies and practices.
Why is it important to me?
Almost every activity that Albertans do generates GHG emissions of some kind. And almost every product we use, food or otherwise, has a "carbon footprint" of emissions associated with it. Whether you are a farmer or rancher, or living in a city in Alberta, everyone has the potential to understand how Alberta can reduce GHG emissions, and be a part of the change.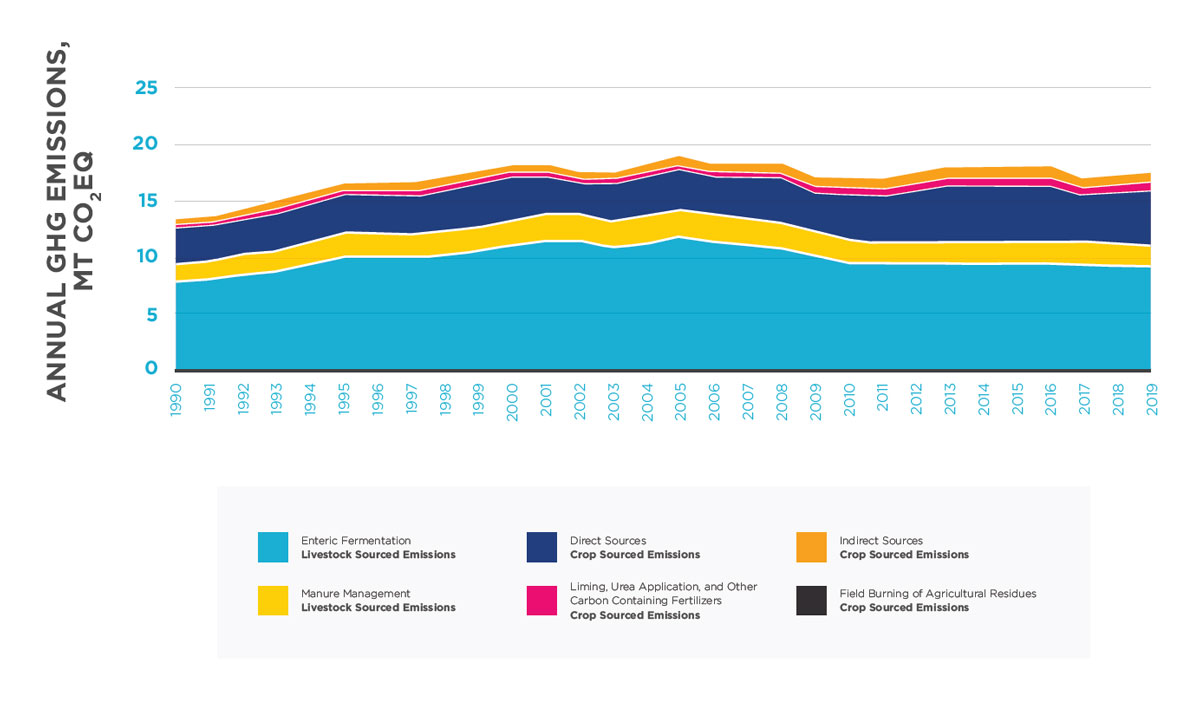 The percentage of Alberta's agriculture GHG emissions that are carbon dioxide, CO2: 96% are methane, CH4, and nitrous oxide, N2O.
The share of Alberta's emissions that are from crop production.
The share of Alberta's emissions that are from animal production.
---

Where can I find more information?
Yes! Canada's National Inventory Report is updated annually, and this Agriculture Carbon Report Card will be updated annually as well.
Alberta Agriculture Carbon Report Card
Download a PDF version of Alberta's Agriculture Carbon Report Card 2021, and learn about Alberta's farm-to-gate emissions for some common agriculture products. We look at wheat, beef, canola, and more, comparing to other countries and looking at where we could improve.
Canada Agriculture GHG Emissions Data
Visit here to see Canada's, and Alberta's, GHG emissions data that are produced from our agriculture industry. Every province is shown, and you will get an introduction to the various parts that make up the whole – what are the major sources, and how have these emissions changed over time?
Wondering about what evapotranspiration is? What is IPCC? What are greenhouse gases, and how do they create climate change? Please start here, where you will find a primer on some of the more common terms you will see on this website.
Do you have questions about what you have read here? Chances are someone else has asked them as well. Please look here for answers to some frequently asked questions about agriculture-based greenhouse gas emissions.